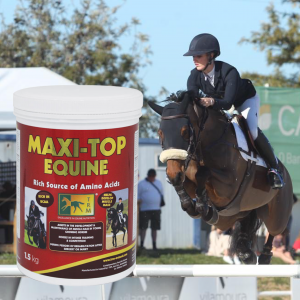 Tester - GB Showjumper Lily Attwood
Horse - 'Cor-Leon Van Vd Vlierbeek Z' aka 'Leon'
Breed - Belgian Warmblood
Age - 10
Competition Level - International 1.50/1.55

Leon loves his own space, he is generally quite a hot horse who can be prone to appearing a little stressy or nervy, making it hard to keep condition on.
He can be prone to running up a little light and we have to work hard to keep condition on him whether at rest or in hard work.
He is not a big eater, he can be fussy, takes his time to eat and is also prone to being a bit fickle and fussy with feeds. We have worked hard to find him a diet he is happy with, keeps him eating and looking well.
As with all horses like Leon, adding new supplements to a diet that he is settled and happy with can be a nerve-racking time! Will he stop eating, will he not like the taste or smell etc?
So, when we took a look at him after the Sunshine Tour in Vilamoura, Portugal early this year (2020), we wanted to try and get some more body condition, top-line and general appearance of 'wellbeing'. We turned to TRM Maxi-Top Equine to help.
Straight away we were pleased to see Leon tucking into his Dodson & Horrell feeds as normal. Maxi-Top proved to be highly palatable, and as you only need to add 50g a day for maintenance, it doesn't overpower his feeds. Its pelleted consistency makes it easy to feed and it has a pleasant aroma.
So, first hurdle jumped, he was happy to eat!
After just 3 weeks we could see that his body condition was changing. His coat showed a little more bloom and we were encouraged to continue at the point where we have faltered with other similar supplements. So far we had 100% hit rate with feed consumption which is half the goal!
Leon has been in full work throughout the lock down period so that we are ready to go out and compete as soon as the events start again, so this supplement really has been put to the test.
Just nine weeks separate these two images – we are astounded with the change in Leon. His top-line and muscle tone has really improved, his coat is amazing, and his normal triangular hind quarters are fuller and starting to round up - something we have never been able to influence before.
The difference has been amazing in such a short time and we truly recommend TRM Maxi-Top, so much so, we now have several horses in the yard on it...great product!
Lily Attwood & Leon
Check out TRM Maxi-Top Equine Here
Abigail Sparkes & Milo Maxi Top Equine review