B Vitamins are required for a huge number of functions in the body including growth, reproduction, physical performance, maintenance of health and food utilisation. They are required for these functions as they act as catalysts in the metabolism of protein, fat and carbohydrate and in the formation of tissues from nutrients.
So you see, B Vitamins really are important!
B complex vitamins are water-soluble which means they cannot be stored in the body for a great length of time. Therefore, a regular daily supply of vitamins is necessary. This also explains why an undersupply of vitamins could be the cause of suboptimal performance for a horse.
These are two extremely popular supplements that are highly effective at boosting energy and maximising performance. But when the ingredients in both look very similar, how do you know which one to choose? This blog breaks down the contents of these supplements and explains which one may be the most beneficial for your horse.
There are two sources of B vitamins to the horse, from the diet and from microbial synthesis within the gut. Production of B vitamins within the large intestine is dependent on the type of diet fed - less will be formed when a high cereal diet is fed because small intestinal digestion will be maximised whilst large intestinal fermentation will be minimised.
Contrastingly, very active fermentation will occur when an all-forage diet is fed and as a result, more B vitamins will be produced. However, fermentation occurs after the major site of absorption (the small intestine) which may reduce the proportion of B vitamins being subsequently absorbed. 
So, while they are naturally produced to some extent, but their production depends on there being a satisfactory fermentation within the large intestine.
Choosing a blood tonic/energy supplement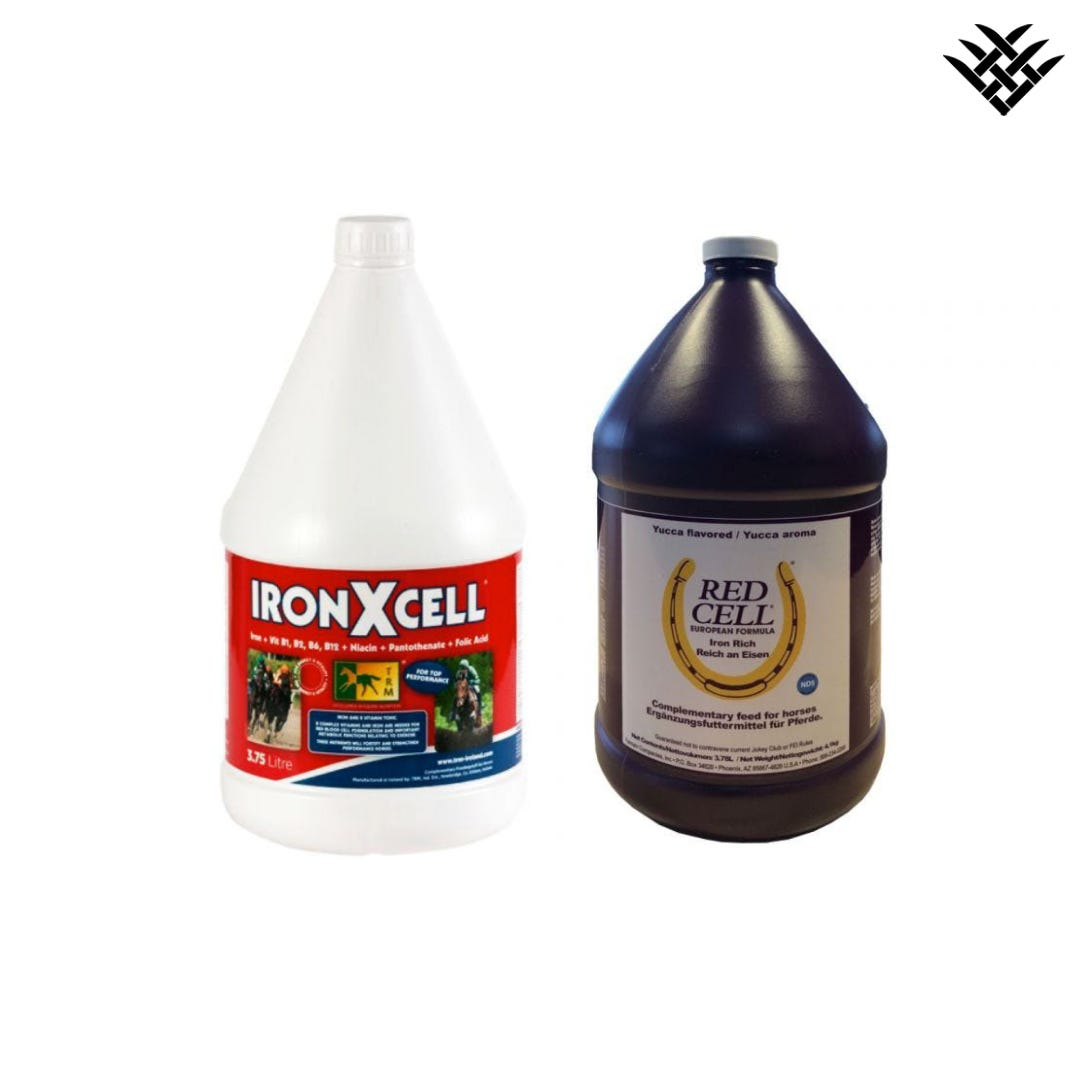 IronXcell and Red Cell two extremely popular supplements that are highly effective at boosting energy and maximising performance. But when the ingredients in both look very similar, how do you know which one to choose? This blog breaks down the contents of these supplements and explains which one may be the most beneficial for your horse.
How do they work?
They are designed to help horses meet energy and performance demands which ensures that their full athletic potential is expressed in competition.
Both supplements contain B vitamins, most importantly B6 and B12 vitamins.
B6- This helps with muscle repair, brain function and so much more. More importantly, B6 converts proteins, fats, and carbohydrates to glucose. The vitamin has a strong influence on energy use too and prolonged energy can be expected when taking a B6 supplement.
B12- Almost every cell in the body uses B12. Not only does it help form red blood cells, B12 converts fat and protein to energy, and a B12 deficiency causes tiredness. If a lack of energy is a problem, it is firmly established within both human and equine medicine that reaching for a dose of B12 can give the 'pick me up' that is required. Vitamin B12, along with B6, are best for energy.
B vitamins contribute in a unique way to metabolism. This is beneficial because the more efficient the metabolism, the more efficient the energy.
These supplements are also a source of iron, which is important as iron is required for red blood cell formation.  This is particularly important for sports horses that have high levels of exertion.
Red blood cells deliver oxygen to all cells in the body, and they also remove the carbon dioxide. Removal of waste products, such as carbon dioxide, from the cells in a timely manner is vital because a build-up of these products will rapidly cause fatigue.
Haemoglobin, the iron-containing protein in red blood cells, is responsible for transporting oxygen from the lungs to every cell in the body. In the performance horse, efficient oxygen transportation is critical during exercise and for recovery.
Note: There is plenty of misinformation on the internet about the need for iron in equine diets. If you are in any doubt about anything you read online, make sure to check the credibility of your source. The National Research Council (NRC) concludes that mature horses require a daily intake of 40 mg of available iron per kg of dry matter intake. That means that a 500 kg horse that eats 2% of its body weight will eat 10 kg of dry matter per day. Therefore 40 mg/kg x 10 kg = 400 mg of available iron is necessary daily for normal metabolism in a horse (Nutrient Requirements of Horses. 2007).
Forage is naturally high in Iron so this should be taken into consideration when deciding what is necessary in an iron supplement.
Ingredients
|   | IronXCell | Red Cell |
| --- | --- | --- |
|   | Per 60ml | per 2fl.oz. |
| Vitamin A |   | 7,000 I.U. |
| Vitamin D3 |   | 2,800 I.U. |
| Vitamin E |   | 35 I.U. |
| Vitamin B1 | 150mg | 30mg |
| Vitamin B2 | 75mg | 25mg |
| Vitamin B6 | 25mg | 8mg |
| Vitamin B12 | 150mcg | 120mcg |
| Biotin | 0.5mg | 0.02mg |
| Pantothenic Acid | 80mg | 48mg |
| Folic Acid |   | 7mg |
| Niacin (Nicotinic Acid) |   |   |
| Vitamin K/ Menadione |   | |
| chloride/Choline |   | 200mg |
| Vitamin C |   |   |
| Iron | 150mg | 300mg |
| E2 Iodine |   | 0.25mg |
| E4 Copper |   | 36mg |
| E5 Manganese |   | 39mg |
| E6 Zinc |   | 11mg |
| Selenium |   | 0.65mg |
| Sorbitan/Sorbitol | yes |   |
| Lysine |   |   |
| Methionine |   |   |
| Threonine |   |   |
| Leucine |   |   |
| Isoleucine |   |   |
| Valine |   |   |
| Calcium |   | 20mg |
| Phosphorous |   |   |
| Sodium |   |   |
| Potassium |   | 100mg |
| Magnesium |   | 20mg |
| Chloride |   |   |
| Sulfur |   | 250mg |
| Dextrin/ Dextrose | Yes |   |
Which ingredients matter the most?
When choosing a supplement, first you must know exactly what result you want out of it. In this case, as you are choosing a supplement for energy, you need to look closely at the ingredients that are most effective at delivering your desired result. Therefore, for the purpose of energy, B6 and B12 should have significant attention. IronXcell is by far the richest in these two nutrients.
Sorbitol
A very significant difference between these supplements is that IronXcell contains sorbitol, unlike Red Cell. Sorbitol is a type of carbohydrate called a sugar alcohol. It is a significant ingredient because it increases the absorption of B Vitamins. Sorbitol is also an appetite stimulant, meaning the horse is likely to consume more food which can also be converted to energy.
Key Take-Aways
B complex vitamins are critically important to the health of your horse, and performance horses that are fed limited amounts of forage should be supplemented.
Using complex B Vitamins is an excellent way to give your horse a natural boost to deal with the stress of travel and competition.
Good blood tonics are formulated on a sorbitol base, which improves the absorption rate of B vitamins in the horse. For this reason, our recommended supplement for delivering these results is IronXcell.
IronXcell is a correctly balanced supplement with the essential B Vitamins and a sorbitol base, making it an easily absorbable liquid- a great support to any performance horse striving to be their best.
Related Articles 
What is the best hoof supplement for my horse?
Vitamins & Trace Elements for horses