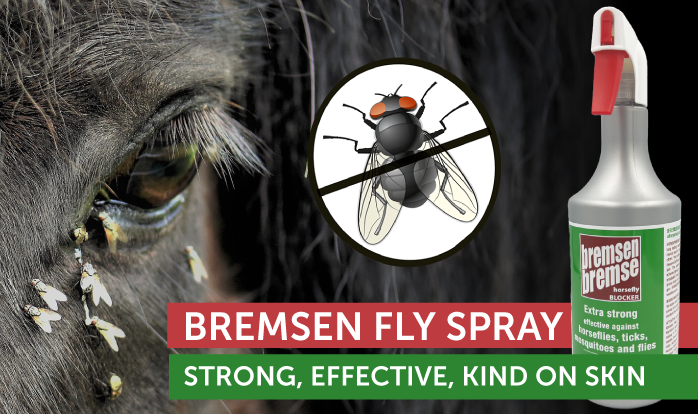 At Farm & Stable we think Bremsan Fly Spray is the strongest, most effective fly spray we have ever seen - and it's made from natural ingredients!
The Bremsen Classic Long Acting liquid, is a very popular, extra strong-smelling fly repellent. It's an extremely effective deterrent against undesirable, biting insects such as horseflies, ticks, blackflies and mosquitoes.
Bites from these animal blood loving insects can be painful and cause allergic reactions so it is important that we protect our horses as best we can, particularly in the changing of seasons when surges of insects can occur.
This Fly Spray / Repellent can be used to protect horses during in the field and stable as well as while training or at competitions.
A great feature of this spray is that it contains moisturising Aloe Vera, Sesame Oil, Avocado Oil and Walnut Oil to care for the skin.
Bremsen has also been allergologically and dermatologically tested, and it is completely safe on sensitive skin. This means it can also be applied over sore parts (such as cuts and grazes on legs) and it will not sting the skin. It can also be applied to nostrils and the underside of horses, as well as to cats and dogs!
We only advise you not to apply above your horses' eyes as when they sweat it may drip into their eyes which should be avoided.
The extra strong repellent effect of Bremsen is achieved through a combination of Geraniol and the EPA-approved insect repellent IR3535.
IR3535 is commonly used for both humans and animals and has been hugely popular for 30 years. Besides it being safe on the skin, a reason for its popularity is due to it being safe for the environment. Many aerosols and sprays contain chemicals that are toxic when they contaminate water, soil, and other natural environmental elements. However, Bremsen is not toxic to aquatic organisms such as fish or algae, plus it does not build up in the environment.
What is more, it is effective at repelling insects for up to 36 hours (depending on conditions).
These are the reasons why we think Bremsen Fly Spray is the best ever.
Bremsen Fly Spray is available in a 750ml spray or a 5L refill (which also contains 2x empty spray bottles).