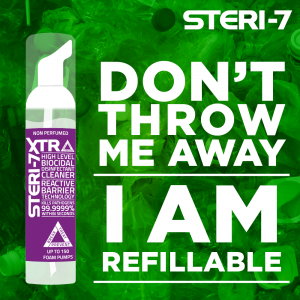 Wherever we go, whatever we do, there are harmful germs all around us - before we even start thinking about the current COVID-19 outbreak.
All disinfectants kill some bacteria, but they are only designed to work whilst wet. As soon as the solution has dried, it has no effect on new bacteria attacking the surface. This means re-colonisation will occur within 20 minutes.
STERI-7 is remarkably different
STERI-7's unique Reactive Barrier Technology means that it offers powerful protection between cleans.
3 Stages to BREAK - TREAT - PREVENT
Using STERI-7 hand washes and sanitisers helps BREAK the chain of infection endemic in many environments such as schools, catering and healthcare.
Then, applying STERI-7 biocidal cleaner to the vulnerable spaces and surfaces will TREAT the pathogens at source - including bacteria, viruses and spores.
Finally, continued used of STERI-7 with Reactive Barrier Technology will help PREVENT any further re-infection.
How STERI-7 works
Spray a surface with STERI-7 and a few seconds later any bacteria, viruses and spores on that surface will be dead. But STERI-7 doesn't stop there. Leave it to dry and a reactive barrier is created on the surface.
This STERI-7 barrier reactivates in the presence of the smallest amounts of moisture. How small? To reproduce, bacteria, viruses and spores need moisture. Should they land on the surface and then try to actuate, the moisture they contain, even though it's microscopic is enough to reactivate STERI-7 - which then wipes them out.
The reactive barrier continues to be effective for a proven 72 hours*, killing pathogens between cleans and protecting floors and surfaces 24/7.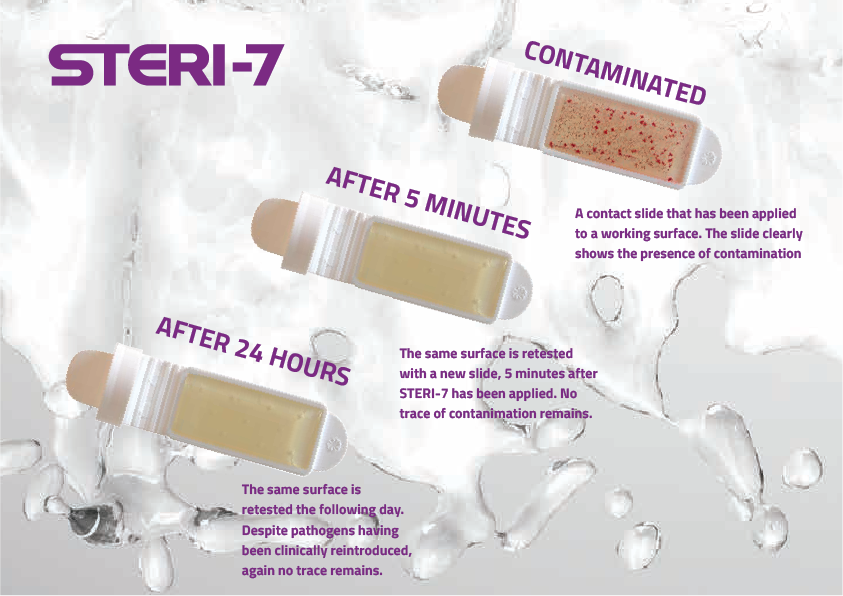 STERI-7 Reactive Barrier Technology is available in a large range of products - from foaming hand sanitisers to Medical Grade deep cleansers for using in industry, veterinary or hospital environments.
DEFRA approval
DEFRA has toughened up its General Orders approval standards for disinfectants - and whilst STERI-7 is non-corrosive, contains no beaching agents or oxidisers, it's safe and tested for use on fabrics and soft metals - STERI-7 also meets and exceeds DEFRA regulations for disinfectants.
So if you want to enjoy Government approved standards of hygiene through a disinfectant that's death to pathogens, then look no further.
Once I'm empty...
Simply refill the bottle. The current shortage of hand sanitisers is partially due to the lack of appropriate bottles available. Many of the bottles are produced in China and shipped around the globe before being filled.
But, STERI-7 hand sanitiser is available in different bottle sizes. So we recommend that when you have used up a 75ml or 250ml personal use bottle, PLEASE DON'T THROW OUT THE BOTTLE. You can simply refill the bottle from a 5 litre container. Simply unscrew the pump section from the bottle, insert a funnel and refill from the larger bottle. Make sure the pump mechanism is then re-secured and you're good to go.
By using refills, we're looking after the planet by reducing single use plastic bottle consumption.
Order your STERI-7 5litre Hand Sanitiser Refill via our website or call +44(0) 1730 815800
*Hospital Infection Research Laboratory, City Hospital Birmingham