WHAT IS TRM FLAMEZZE-EQ?
An 'emulgel' for joints, muscles and tendons
FLAMEZZE-EQ is a 100% natural, topical emulgel for horses.
With micellar solubilized Boswellia serrata, emollients, permeation enhancers and a unique blend of essential oils, the emugel technology, which combines gel and cream, provides both a cooling and soothing effect when applied to the skin. 
What is an emulgel?
An emulgel is a beneficial combination of an emulsion and a gel.
Why use a topical joint relief emulgel?
Unlike oral joint supplements that often require a period of taking a loading dose to make an effect, this topical ointment provides rapid relief and for a lower price than most of the nutraceutical joint support products available.
A topical gel, ointment or emulgel is rubbed onto the skin of the horse in the area where the horse is showing signs of stiffness or discomfort.
A 500ml bottle of FLAMEZZE-EQ is a great tack box essential, ideal for keeping on the yard and in the show lorry. The product has been specially designed for use pre & post intense exercise or competition as its cooling effect soothes and revitalises joints, muscles & tendons.
This product was first produced by TRM (Thoroughbred Remedies Manufacturing) in association with the Hong Kong Jockey Club, a world leader in the provision of horse racing. The nature of the sport dictated that any product used on racehorses must be free from any prohibited substances. Therefore, unlike many cooling emulgels that contain banned substances, FLAMEZZE-EQ is race and competition safe, even if the horse licks it off its skin. This is particularly important in racing as in the past horses have been banned from the sport due to inadvertently consuming prohibited substances by licking the product off their legs. Nevertheless, please note, that it is advised that no topical or nutraceutical supplement should be used on the day of racing or before competition. We always recommend you check the rules of your specific governing body.
How does FLAMEZZE-EQ work?
The benefits of FLAMEZZE-EQ are twofold. Not only does the formula actively work to revitalise and soothe overworked joints, tendons, and muscles, but regular massage through the application of the product helps alleviate stiffness and soreness while also helping to reduce inflammation.
For more on how to reduce swelling in your horse's legs, click here: The cause of equine leg swelling and how to reduce it.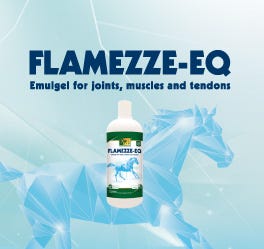 Ingredients in FLAMEZZE-EQ:
Boswellia Serrata
Oxygenated triacylglycerol 
Witch Hazel (Hamamelis virginiana L.) 
Eucalyptus oil (Eucalyptus globulus) 
Peppermint oil (Mentha arvensis) 
Thyme oil (Thymus vulgaris L.) 
Discover more about FLAMEZZE-EQ ingredients and their properties
Boswellia Serrata
The resin of Boswellia contains Boswellia acid which has been used in human medicine for centuries with properties that decreases inflammation and increases immune response. Boswellia has been proven to help with swelling and pain and additionally, it is known to improve blood circulation to the tissues with can help with muscle and tendon recovery.
Oxygenated triacylglycerol
This is a pre-oxidated derivative of corn oil which is highly rich in linoleic acid. An emolliating agent, it also works by inhibiting the action of the 5-lipooxygenase enzyme and increases cell turnover.
Witch Hazel (Hamamelis virginiana L.) 
Rich in gallic acid and tannins, Witch Hazel has powerful medicinal properties. There are many species of witch hazel, but Hamamelis virginiana is the most used in medicine. Compounds in Witch Hazel such as gallic acid and tannins have potent anti-inflammatory properties. Witch Hazel also acts as a free radical scavenger and soothes the skin and reduces soreness.
Eucalyptus oil (Eucalyptus globulus) 
Eucalyptus oil helps to reduce pain and inflammation so is often used in ointments and creams to reduce muscle and joint pain. The eucalyptol and alpha-terpineol enriched oils in FLAMEZZE-EQ help to increase blood circulation to tissues and relieve muscle soreness after a strenuous workout.
Peppermint oil (Mentha arvensis) 
The active component of peppermint oil acts as a cooling agent thus providing comfort to painful tissues and helping to reduce muscle/ tendon/ joint soreness. Unlike some menthol contain products, this product is totally race safe and competition legal, but note that it is not recommended to use on the day of racing.
Thyme oil (Thymus vulgaris L.)
Abundant with thymol and carvacrol, thyme oil soothes the skin, acts as a potent antioxidant that reduces muscular stiffness and oedema. It leaves a very pleasant aroma, relieving the stress caused by rigorous intense training.
How to use FLAMEZZE-EQ
FLAMEZZE-EQ can be applied before and after exercise – ideal for regular massage on muscles, tendons & joints. It is non-staining, easy to spread and has a quick-drying formula with a mild cooling sensation.
Twice daily apply liberally onto the affected area and massage gently. 
Cautions:
Do not apply on open wounds, near eyes, nose and mucous membranes. 
For external use only.
Keep out of reach of children.
In Summary, choose FLAMEZZE-EQ as a 100% natural approach to rapidly cool and soothe sore or stiff joints, muscles, and tendons for your horses.