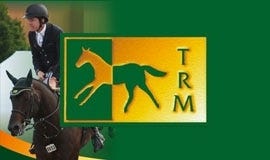 TRM
TRM - Excellence in Equine Nutrition
A little bit about TRM
TRM is Europe's largest manufacturer and distributor of Nutritional Feeds Supplements and General Healthcare products for Horses.
TRM is located in Newbridge Co. Kildare IRELAND, a stones throw away from The Curragh, which has been the centre of horse racing in Ireland for many centuries, and the world famous race track there is home to the Irish Derby, Oaks, Gunieas and St. Ledger. It is also conveniently located adjacent to Horse Racing Ireland, the administrative body for the industry in Ireland, The Turf Club – the regulatory body for the industry in Ireland, and famous trainers such as Dermot Weld, 2 time Melbourne Cup Winner with Vintage Crop and Media Puzzle, and John Oxx, trainer of the wonder horse Sea the Stars.
TRM stands for "Thoroughbred Remedies Manufacturing Ltd." and indeed prior to the Company's formation its founder Mr. Larry Masterson worked both in the racing yard of Mr. Noel Chance, and in the world famous Airlie Stud Farm. However as the business developed globally, and the company became involved in many other disciplines such as Showjumping, Dressage, Three Day Eventing, Trotting, Endurance, Western, Arabian Showing and Carriage Driving, the name was abbreviated to TRM.
TRM always adheres to very strict manufacturing and quality guidelines. Its production complies with the HACCP (Food Safety) system and was recently one of the first companies to receive the EU manufacturer's license for supplements, premixtures and mineral blends.
Almost all TRM products comply with FEI/Jockeyclub rules, and are subjected NOPS (Naturally Occuring Prohibited Substances) testing.
*Any products not complying with FEI/Jockey club rules are clearly marked with recommended withdrawal period.