How to correctly size and fit your horse rug
The key to rug comfort is getting the correct size rug to fit your horse.
Measuring your horse for a rug
Measure from the centre of your horse's chest to the buttocks where you would expect the rug to finish. This gives you the bottom measurement in inches or centimetres. Or you may take the back measurement, either way, use the chart below to check it against the rug sizes required.
Fitting a Horse Rug
Fasten the breast straps so that the fabric overlaps underneath them. The straps should be tight enough to hold the rug in place, but not too tight that the rug's shape distorts. This could cause pressure points around the chest and whither area.
Cross surcingle's when fastened should allow an adults hand between them and the horse's tummy to ensure legs cannot get caught should the horse lie down, but not so tight to make the horse uncomfortable.
Leg straps should be fastened left strap around the left hind leg, fastening back to the left side. The right strap then passes around the right hind leg, looping through the left strap and fastening back to the right side. These should be about 4-5" between the strap and the horse's legs to prevent the rug slipping but without causing the horse and discomfort.
If the rug has a fillet string or strap instead of leg straps, loop this under the tail and attach so that it secures the back of the rug to help hold it in place.
Ensure the rug fits well over the withers and shoulders. Too loose and it will slip back when the horse moves, too tight and may rub your horse sore.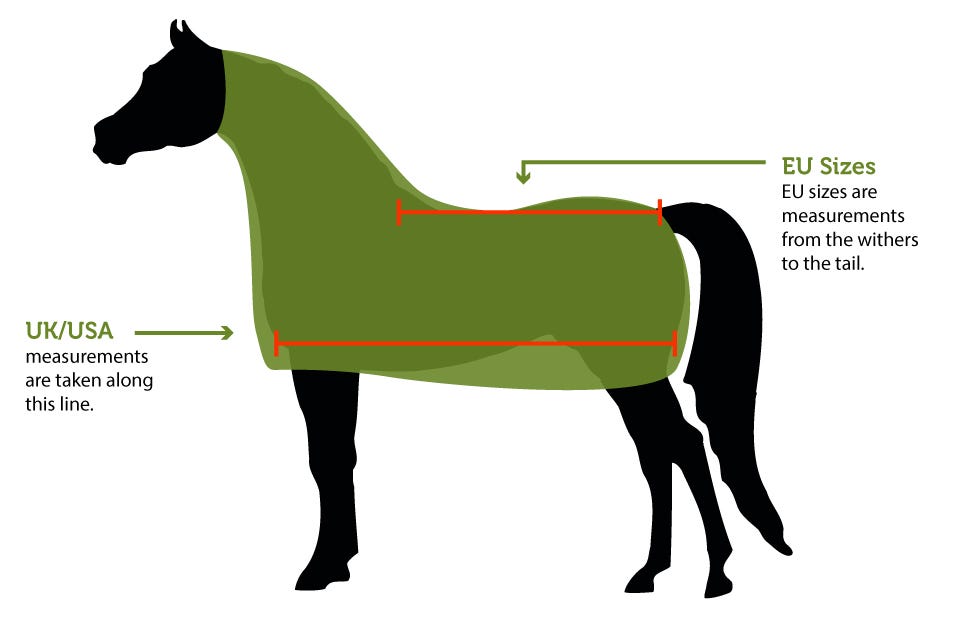 Rug size chart
Rug Size
Back Seam (EU) Length (cm)
Chest Line (UK) Length (Inches)
Chest Line (cm)
Under 10hh/Foal
3'0"
60
36
91
Under 10hh/Foal
3'3"
65
39
99
39
3'6"
3'9"
Pony/Small horse
4'0"
4'3"
4'6"
4'9"
5'0"
5'3"
Sport Horse
5'6"
5'9"
6'0"
6'3"
6'6"
6'9"
Large Horse
7'0"
7'3"
7'6"
Rug Types