How To Install An Electric Fence
Electric Fencing Is A Very Popular, Versatile And Effective Form Of Fencing And Can Be Used In Both Temporary And Permanent Fencing Situations.
This information guide will give you the customer a better understanding of electric fencing and an insight in to how the products are used.
An Electric Fence Works In The Following Way
The energizer puts out a high voltage, low current pulse, approximately once per second, through a special conductive fence line. This may be stranded wire, electric fencing poly wire, electro tape or electro rope. The fence line must be totally insulated from the ground so that there is no leakage of current to the earth. This is why good quality insulators are an extremely important part of the system. This enables the maximum voltage difference between the earth and the fence line to be achieved. When the animal touches the live fence line, it will complete the electric circuit and will feel a shock as the current flows through its body, into the ground and back to the energiser via the earth stake. The animal will remember the shock so the electric fence then becomes a psychological barrier and the animal learns to stay away.
The Energizer
The unit that creates the high voltage pulse shock on an electric fence.
Power Source
Battery (dry disposable or 12 volt wet rechargeable), depending on model. Mains and solar systems are available.
Voltage
The amount of shock on the fence line under different loads created by such things as vegetation and very long lengths of fence.
Joules
This determines the distance of fence line that can be satisfactorily electrified. The higher the joules, the longer the fence can be and the higher the shock produced.
Earth Stake
The best possible earth is essential and is often the part of the fencing sale that is overlooked. A good earth is required to allow the current to flow from the energizer, along the fence line, through the animal into the ground and back to the energizer via the earth stake, thus completing a circuit. If an insufficient earth is used, then too low a fence line voltage may be achieved to give a large enough shock to the animal. In dry or sandy ground conditions, the current flows less easily than in damp conditions so you may need more than one earth stake.
Basic Fence Types
| | Portable / Temporary (Battery) | Semi – Permanent/Permanent (Mains and Battery) |
| --- | --- | --- |
| Expected fence use Ease of installation Animals controlled | Short term, frequent moves. Simple, fast. Cattle, horses, pets, lawn and garden pests. | 1-20 years. Easy to moderate. Cattle, horses, pigs, sheep, goats, exotics, deer and predators. |
| Best suited for | Temporary fencing, managed intensive grazing. | Pastures, cross fences. |
| Post type | Step-in posts, steel and rod posts. wooden posts. | Round wire posts, plastic posts and |
| Wire type | Poly wire, poly tape, poly rope steel wire. | Poly wire, poly tape, poly rope steel wire. Poly wire, poly tape, poly rope and Features Lightweight, reusable, easy to move. posts and conductive wire. Workable with any configuration of |
| Features | Lightweight, reusable, easy to move. posts and conductive wire. | Workable with any configuration of |
Permenant Fence System - Tapes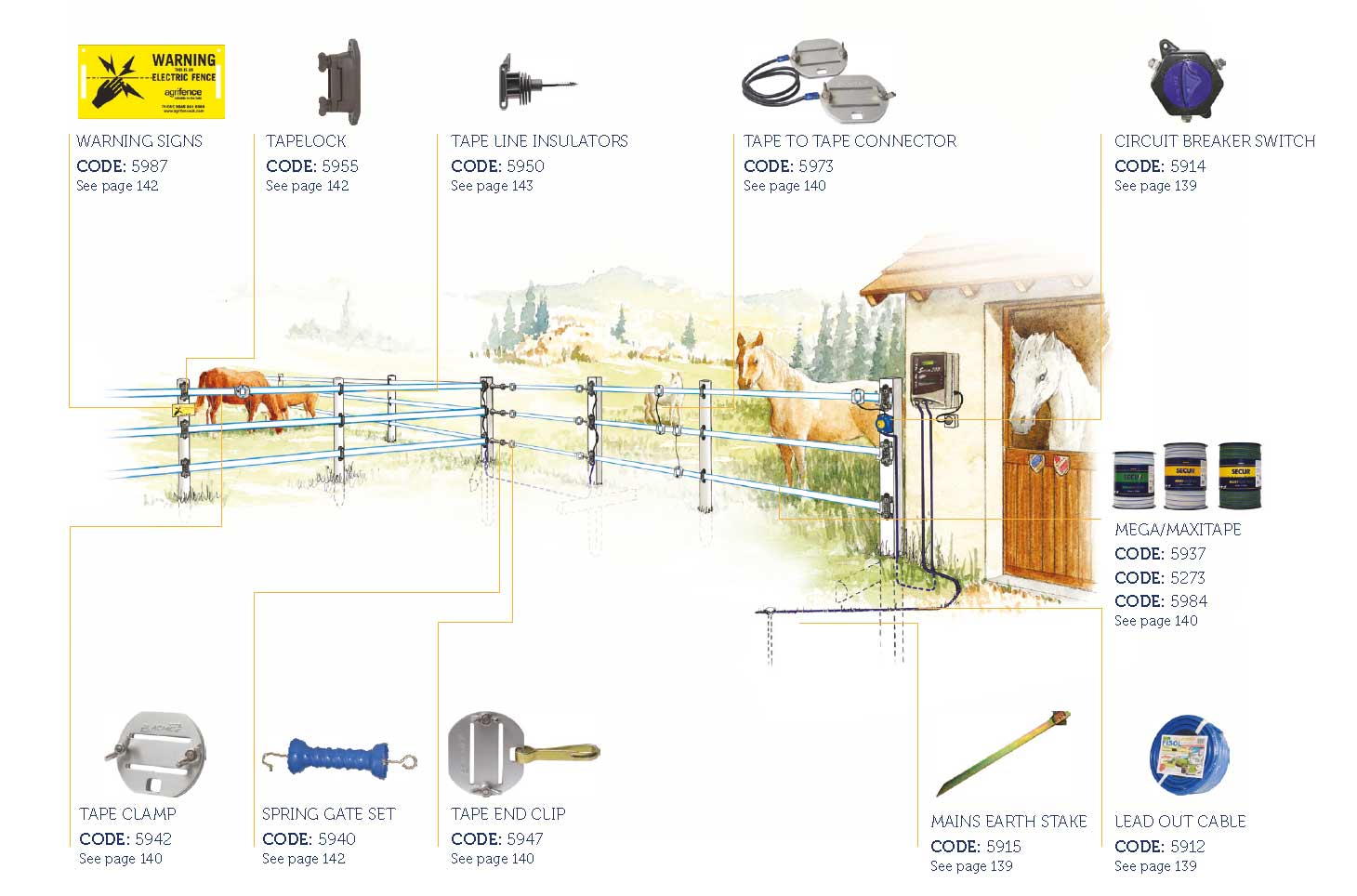 Permanant Fence System - Rope