In a report described as 'Minor changes to Rules of Racing' (30 Aug 2022), the British Horse Racing Authority has announced that Methylsulfonylmethane (MSM) is to be added to the list of prohibited substances. This ban has been implemented with immediate effect following recommendations from the International Federation of Horseracing Authorities (IFHA).
What is MSM and why has it been banned?
MSM is a natural, sulphur-containing compound that has been a hugely popular ingredient in many supplements, most frequently appearing in joint supplements due to its anti-inflammatory properties. While MSM has been widely used to support joint health, as an antioxidant it has also been commonly used to relieve oxidative stress, reduce muscle pain, and even support lung function and hoof health.
The BHA say the reason that MSM has been prohibited is that the substance has ''demonstrated to reduce oxidative stress and hepatotoxicity in horse liver cells and cortisol-induced stress in racehorse skeletal muscle'', and the purpose of introducing banned substances has always been to keep the sport of racing fair.
This is not the first time that MSM has been banned. The International Equestrian Federation (IEF) previously prohibited its use, only to quickly reverse its decision to remove the ban in 2017. Despite the momentary confusion over its use, MSM has continued to be a popular ingredient across all disciplines in both feed and supplements and has been endorsed by many big brands including NAF, Equine America, Viovet and more.
Industry Wide Advice
According to BHA's Head of Equine Welfare and Anti-Doping, the rule stipulates that you must withdraw feed or supplements containing MSM 24 clear hours prior to racing. 
We strongly advise you to check the feed and supplements you currently use for the inclusion of MSM. We also recommend you stay fully up to date with the BHA rules as they can be subject to change. You can check the latest BHA news on their website here.
TRM KURASYN: MSM FREE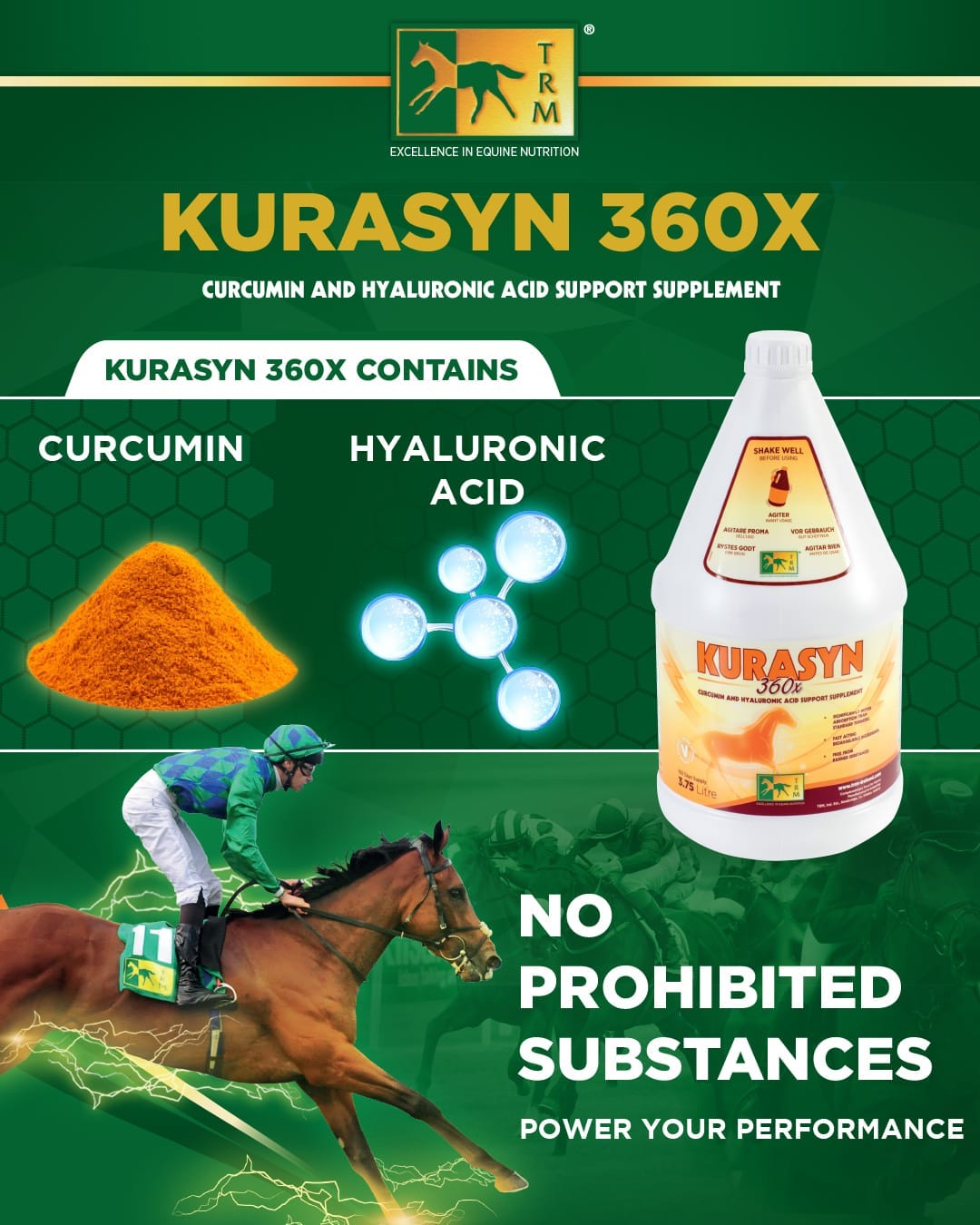 As KURASYN 360X is a product that is heavily used by the racing industry, we are pleased to say that racing yards CAN continue to use this powerful joint supplement as usual because it DOES NOT contain MSM.
The key ingredients in KURASYN 360X that make it an effective joint supplement are Curcumin- known for its anti-inflammatory properties, and Hyaluronic acid- the main component of the synovial fluid that acts as a lubricant within the joints.
The Curcumin in KURASYN 360X has been extracted from turmeric and microencapsulated to make it 360 times more bioavailable than native turmeric. What is more, KURASYN 360X contains a mega dose of Hyaluronic Acid for improvement of the synovial fluid.